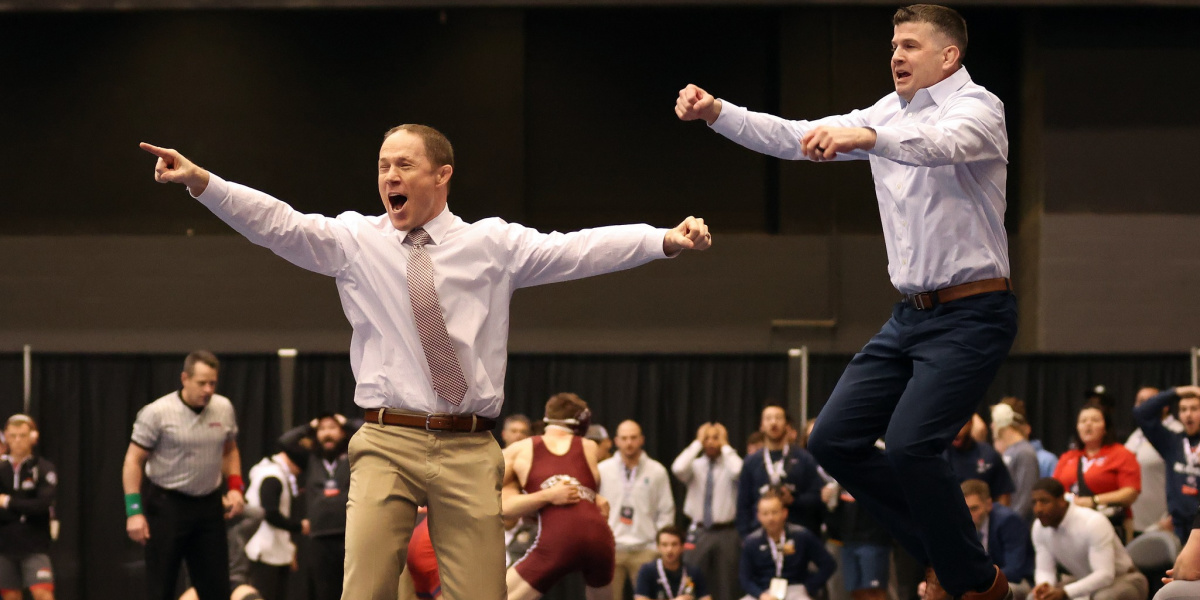 Photo: Grand View Athletics
The Open Mat NAIA Men's Coach of the Year: Nick Mitchell
The Open Mat presents awards annually in three categories for each division of college wrestling at the conclusion of the season. Awards are presented for Wrestler of the Year, Freshman of the Year and Coach of the Year.
The Open Mat NAIA Men's Coach of the Year: Nick Mitchell (Grand View)
Nick Mitchell has now run out of fingers to put his national championship rings on after winning his 11th NAIA men's wrestling national team title. He was the first and only head coach of the Grand View University Vikings, with his first season being in 2009. This gives him 11 national titles in 15 total attempts. In just the past 12 years, he boasts a championship percentage of 92%. His team came close to breaking their own scoring record from 2017, 234.5. This season, Grand View scored 206 team points, crowned three national champions and 11 All-Americans. Nine out of their 12 national qualifiers placed in the top three. The Vikings captured their tenth NWCA National Duals championship this January, outscoring their opposition 147-17. Aside from NAIA competition, Mitchell found ways to challenge his squad. He sacrificed the longest win streak in collegiate wrestling of 116 duals to face top-five NCAA Division I team Iowa State. Although Grand View lost, Mitchell was eager to chase the toughest competition. At the Reno Tournament of Champions, two Vikings earned their way to the finals and nine wrestlers placed in the top six. Grand View also face 2022 NCAA Division II champion Nebraska-Kearney and handled them 34-3. It is not just the accolades that make Nick Mitchell the Coach of the Year. His leadership, sportsmanship, and humility made him the best candidate for this award.