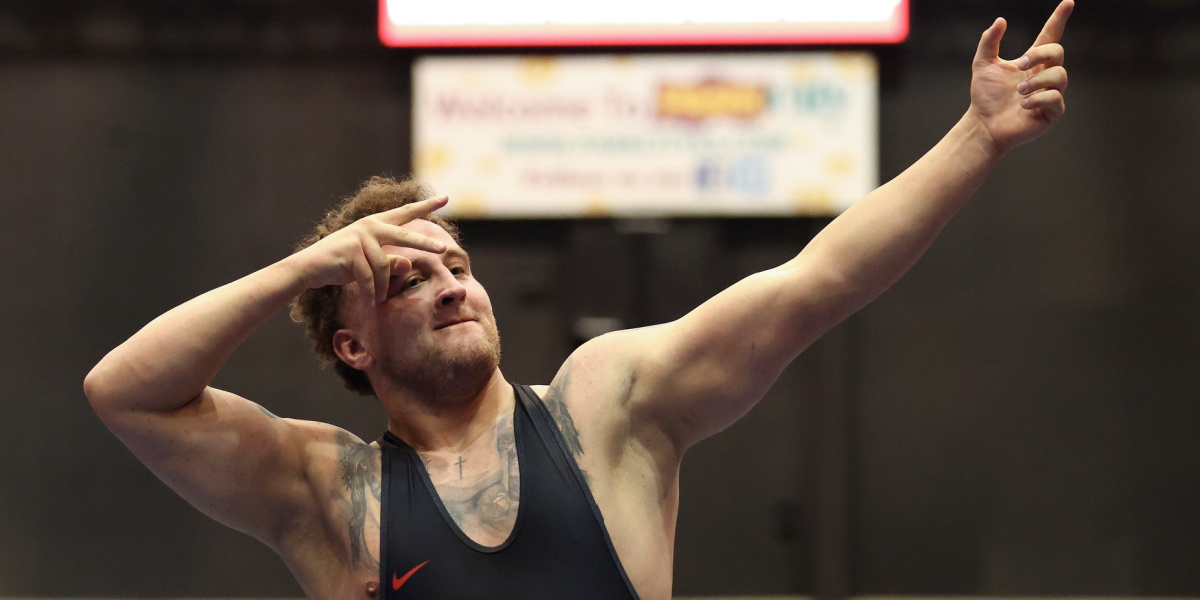 Photo: Grand View Athletics
The Open Mat NAIA Men's Wrestler of the Year: Greg Hagan
The Open Mat presents awards annually in three categories for each division of college wrestling at the conclusion of the season. Awards are presented for Wrestler of the Year, Freshman of the Year and Coach of the Year.
The Open Mat NAIA Men's Wrestler of the Year: Greg Hagan (Grand View)
There are many factors to consider when selecting the Wrestler of the Year award. Factors such as performance at the national tournament, dominance, level of competition and season results play into it. Heavyweight champion Greg Hagan of Grand View checks all of those boxes. He is a three-time national finalist who earned his first national championship this season by pinning Life's Austin Harris in the finals. On his way to the finals, Hagan recorded two quick pins before beating 2022 All-American Hunter DeJong of Morningside in the quarterfinals and 2023 All-American Gabe Jacobs of Cumberlands in the semifinals. His three pins all took place in under two minutes, but his final pin was exceptional. He was taken down first by Harris before inside tripping him for the fall. The 285-pound weight class was considered the toughest weight class in the entire NAIA all season, as evidenced by four wrestlers in The Open Mat's pound-for-pound rankings. The man who beat Greg Hagan in last year's national finals, Gage Braun of Southeastern, did not make the top eight this season. In total, three returning All-Americans missed the podium this year, further illustrating how deep this weight class was. Throughout the season, Hagan beat each of the top-four wrestlers in his weight. Another highlight of Hagan's season was when he faced Nebraska-Kearney's Lee Herrington, who was ranked No. 1 in NCAA Division II at the time. While Herrington had beaten Hagan the year prior, Hagan spladled him swiftly this time around for a pin. He was 17-1 against NAIA competition this season, although that loss comes with an asterisk as it was due to an illegal slam in a match where he was dominating. He had 13 falls this season with each one coming in the first period. Hagan not only won many matches this season against strong competition, but he did it with an entertaining style, which turned many eyes to 285 pounds and the NAIA in general as can't-miss action.